Welcome to The Central Manager!
We understand the difficulty of managing a large number of accounts!
That's why we have developed the Central Account Manager, accessible through your client area.
You can find this super handy tool by heading through the client area -> Reseller Tools -> Central Account Manager on the left navigation bar.
https://client.brixly.uk/CentralManagerClientArea.php
Landing on the page, you will find a combined statistical overview of all your accounts and a searchable/sortable table of all your accounts.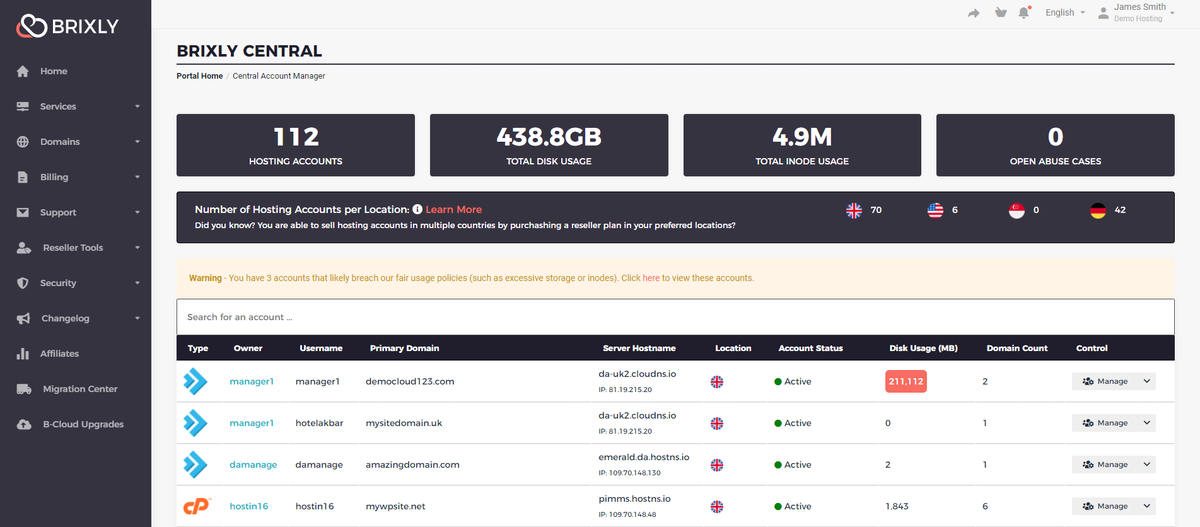 We've crammed in loads of cool features! From this table, you can:
Vastly improved user interface
One-Click Login
One-Click Login to SpamExperts
Edit username / domain for an account
Resource Boost+ for cPanel and DirectAdmin
Purchase Workspace for any account
We also recommend keeping an eye on the Open Abuse Cases!
Improved User Interface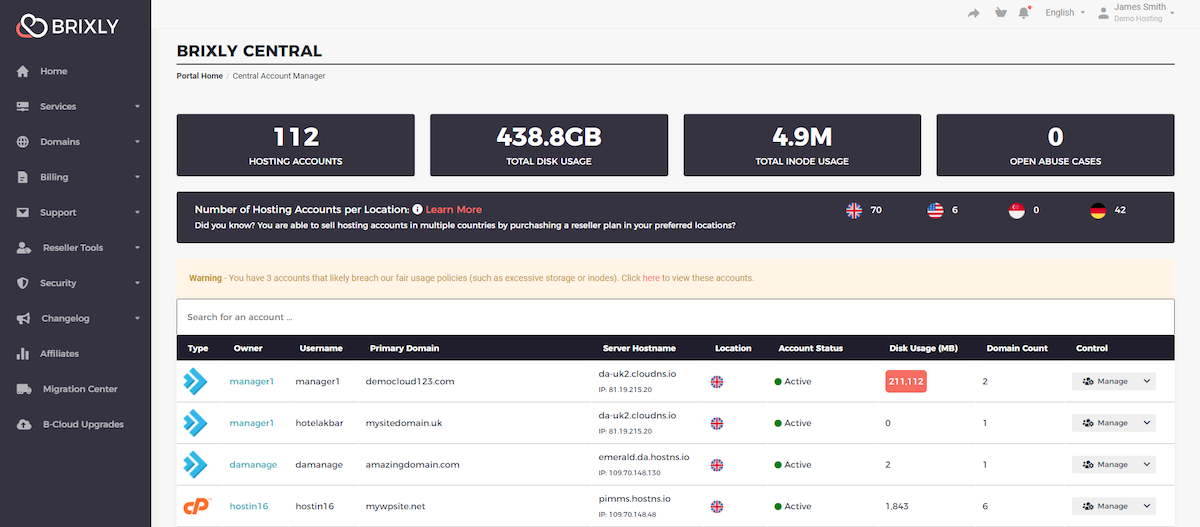 As you can see from the above, we have now provided a single interface, showing you your total number of hosting accounts, total amount of disk space, and the total number of 'inodes' (or, files!). In addition, we also now show you if there are any active abuse cases raised against any of those accounts...


In addition, we now show a breakdown of hosting accounts in each 'location'. The screen shows a clear 'count' of hosting accounts in each location...

Next, you are able to see the core of the solution - your hosting accounts list...


From here, you can see that we provide the core information required for the account, such as its location, the server the account is hosted on (and the IP address allocated to that account), along with some usage statistics, such as the storage quota.
Above, you can see the quota highlighted in red, which is an indication the usage exceeds the 'recommended' amount (at which point, its likely its in breach of fair usage terms).
You also have the facility to search the accounts, as well as 'sort' by each of the table columns (for example, sort by the account quota / size, or sort by server name).
You can also see the accounts 'Status' (whether or not the account is currently in a suspended state, along with the suspension reason).
One-Click Login
We have now added a 'one click' login to any of the accounts, which is supported both on DirectAdmin and cPanel. To login to any of the hosting accounts, click 'Manage', then select 'Login to Control Panel' from the menu provided...

In addition, you can also click the 'logo' on the left-hand side of the account, which performs the same action.
Purchase Resource Boost+
We are very pleased to announce that we now support Resource Boost+ purchases for cPanel and DirectAdmin!
For many months, this functionality has only been available to those using cPanel, whereas the new centralised interface has given us the ability to expand this offering to those making use of DirectAdmin.
To purchase a Resource Boost+ for any cPanel or DirectAdmin account, first select 'Manage', then select 'Purchase Resource Boost+' from the menu...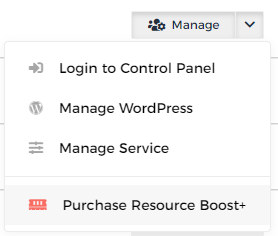 For more information on our Resource Boost+ service, click here.
Purchase Brixly Workspace (plus Automated Migration!)
We have now added a new option to the Central Manager, allowing you to purchase Brixly Workspace plans for any of the accounts with a single click!
In addition, we have built an automated background process that migrates the contents of your accounts mailboxes over to the new platform!
For more information on Brixly Workspace, click here.
Edit an Accounts Username or Domain
For any of you who have requested these changes through support, you will be aware that modification of an account is intentionally restricted in your WHM. There are a number of security reasons behind this, however, to circumvent that we have now provided you with a facility to make these changes straight from our client area!
You are now able to modify the username or the domain name for any particular account on cPanel (DirectAdmin isn't yet available, but will be available as soon as possible!).
To modify the username or domain of any cPanel account, click the 'Manage' option, then select 'Edit Username / Domain' from the provided menu...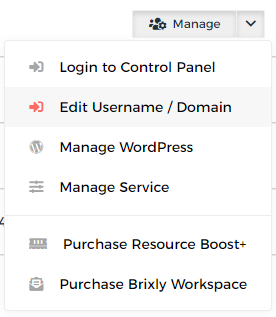 Once you have selected this option, you will be presented with the following screen, which allows you to make the required changes to the account...