It is possible to pay for your services and domains via Direct Debit, however, there are a number of things that differ through this payment process, compared to standard processing gateways such as credit/debit cards.

If you wish to pay via Direct Debit, then you would need to set up a 'Direct Debit mandate', which can be done through our client area. However, you are only able to set up a Direct Debit mandate when an invoice is unpaid.

To do this, go to any unpaid invoice, then select 'Direct Debit' from the payment method dropdown...



Once this has been selected, you will be given the option to 'Setup Mandate for Payment'...


Once you have selected to do so, you will be redirected to GoCardless to complete a Direct Debit mandate...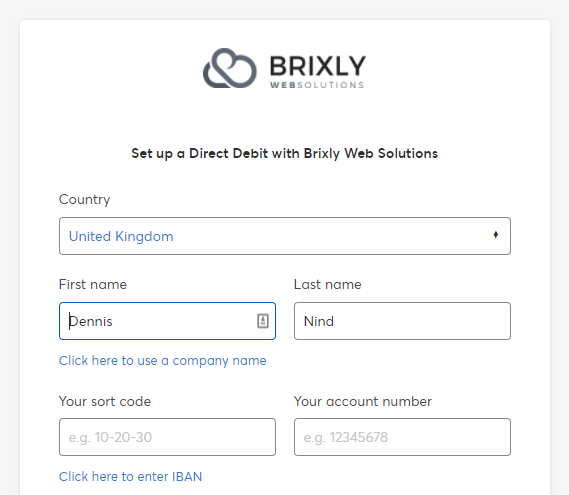 Once this has been filled, your invoice will be set back to 'Payment Pending' until the payment clears.
How do I set Direct Debit to be my default method for all future invoices?
IMPORTANT: Please note, that paying for an invoice via Direct Debit does not make this the default payment method. To use that Direct Debit mandate for all future payments, you will need to set this in your profile...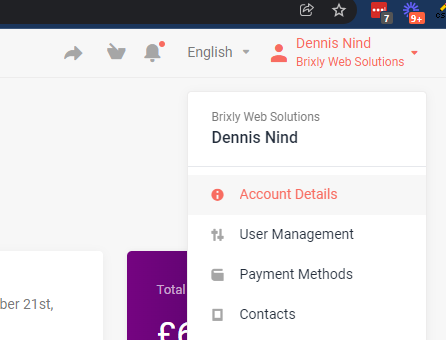 Select 'Account Details', then set the default payment method to 'Direct Debit' from the 'Payment Method' field provided...

Note: Selecting from the list above, and saving the changes will set the selected payment method to be the 'default' method for all future invoices and services for your account.
How does the Direct Debit processing work for my invoices?
Direct Debits are an incredibly convenient payment method, which is associated directly with your bank account, as opposed to a 'credit or debit card'. The benefit of this is that the payment method doesn't expire, as would be the case with cards.
However, Direct Debits are a 'guaranteed' method and are considered 'non-refundable' (any refunds will be refunded to the credit balance, and not back to the bank account). It is not possible for us to 'reverse' payments captured via Direct Debit.
Processing times for Direct Debits
Direct Debits can take anywhere between 3 and 5 working days to clear, however additional processing time may be required by GoCardless themselves to perform any additional required validation or verification checks.
Taking into account the above, we capture the payments 'before' the due date (sometimes as much as 10 days prior), to allow time for the invoice payment to process entirely. The reason for this is to ensure the invoice is marked 'Paid' on, or before the due date to avoid service interruption.
Failed payments will be re-captured (for example, where funds are not available at the point of the capture). However, it's important to note that at any point beyond this, the payment can be considered 'failed' (after numerous failed attempts), and therefore may lead to the service being overdue.
It's important when paying via Direct Debit, that you monitor the status of your invoices and payments, to ensure the payments have cleared before the due date.
In addition, we will not provide services or domains without a cleared payment, and therefore any domain purchases or similar purchases made via Direct Debit may not be activated immediately.